Dear fellow Toastmasters,
The theme for this year's Spring Conference is Spark! and every Spark! starts with a dialogue.  In this volume of the Spark! letter, I would like to introduce the biggest party in the year for Toastmasters from all over Japan, a chance to meet people and open meaningful dialogues.
Who can you meet at the party?
People who know the world, and people who just started to expand their world.
People full of dreams, and people who are searching for their dreams.
Champions, and future champions.
Leaders and future leaders.
Toastmasters who love the current programs, and Toastmasters looking forward to the future.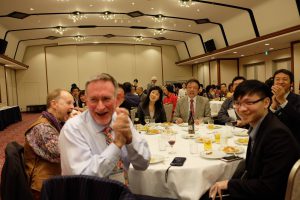 It's a place where diverse people – including the special guest from overseas – gather and have dialogues.  Feel Spark! through many encounters and discoveries.
The discounted Spark! price of 4,980 yen is now available but the number of seats are very limited, so purchase your ticket now!
[Spark! Party Schedule]
Date:   Saturday, May 12,  19:30 – 21:30
Venue: KIZAN Club in Japan Education Center
(3 mins walk from Jinbocho Station / Toei-Shinjuku Line, Toei-Mita Line, Hanzomon Line)
On Saturday, May 12, after the educational programs end, the participants will travel from the Olympics Center to the party venue.  You can find a map of how to get from Jinbocho Station to the venue in the attached party flier.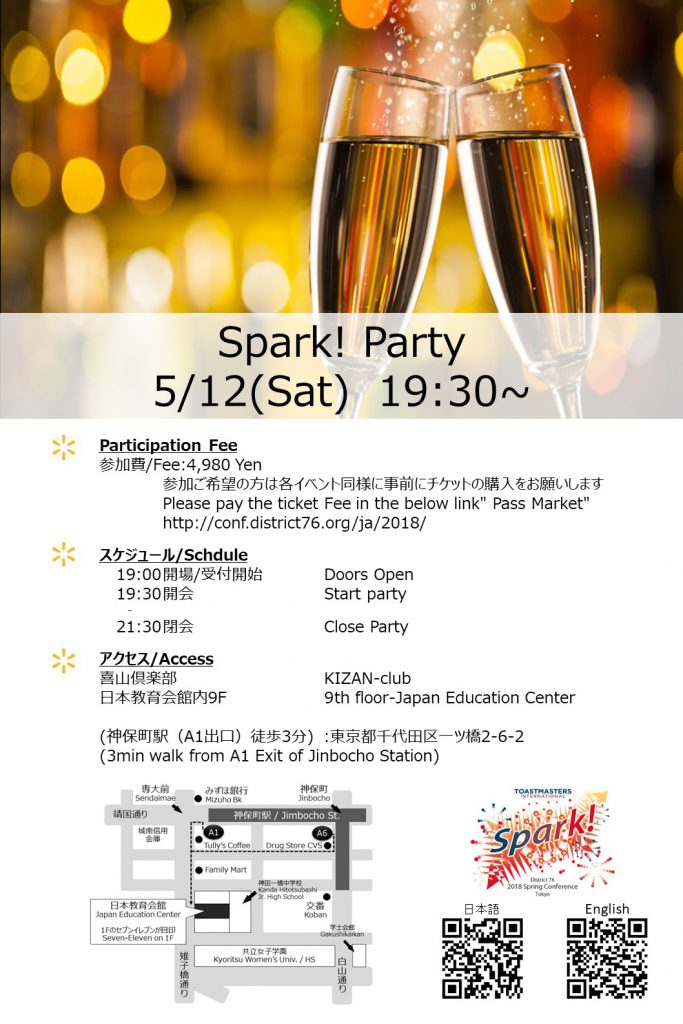 There will be only one District Conference to be held in each year starting in 2018. Please do not miss this fantastic annual event!

Kiminari Azuma
2018 Conference Homepage: http://conf.district76.org/en/2018/
Promotional Movie: https://youtu.be/cAVITAUhXds
Party Movie:  https://drive.google.com/file/d/1rJ18hqvbozWfjsNNeZ6A677OEKLTQqAm/view?usp=sharing