Spark! Cafe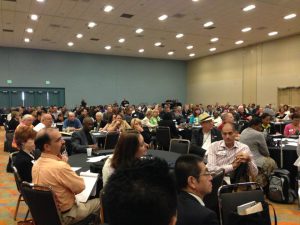 What is Spark! Café?
Spark! Café is the title for the World Café-style discussion that we plan to have at the 2018 District 76 Spring Conference.  When a World Café event is held, it is usually named after the theme for the discussion.
Therefore, it has been named Spark! after the theme for this year's Spring Conference. Participants will contribute to collective thought and learning through a series of dialogues in this World Café. The purpose of this event is for participants to feel SPARK!ed intellectually during the conversation.
What is a World Café?
World Café is a method of communicating in a relaxing atmosphere, like an actual café. Participants are divided into groups of 4 to 6 people to have a dialogue and the event continues while changing the combination of members.  This method works with a minimum of 16 people and even with more than 1,000 people. Originally introduced in the United States in 1995, it is now spreading all over the world. A World Cafe, lasting few hours, is a common method used to gain knowledge out of shared discussion in every part of society.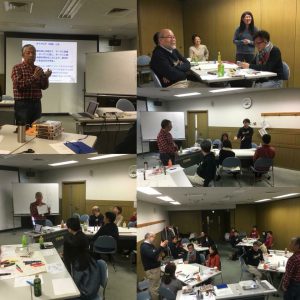 Major Benefits of Participating in World Café
The Spring Conference is the largest event in Toastmasters District 76 and our fellow Toastmasters gather from all over the country. It is an annual opportunity to meet more than 700 Toastmasters at one place during the three-day event.
We would like to ask how much dialogue you've had with people from other clubs in other regions in the country. You have seen many participants and you have realized how many clubs exist in Japan by participating in the Banner March. However, have you actually interacted with them and deepened your relationship? The following is the list of benefits that Spark! café can provide you.
Make friends with many Toastmasters from all over Japan.
Ask questions and obtain feedback
Find resources to resolve issues
Learn about Pathways from other participates
Share information and tips to improve communication and leadership skills
Meet new conference buddies who could make your participation more enjoyable
Enjoy proactive participation in conversations
Understand Toastmasters more deeply
Know how much fun the Spring Conference could bring to you
We are sure that you will find many more benefits.
Purposes of this Conference's Spark! Café
The concept of this Conference is to connect as many people from all over the country as possible and create a SPARK! in those relationships.  We believe that peoples' endeavors can be greatly reinvigorated by creating connections, exchanging information, and learning from each other.
That is why we will hold the Spark! Café, the learning opportunity through dialogue, right after the opening ceremony.  There have been many workshops during the Conferences in the past, but there has not been an event like this where as many as 200 participants discuss the same theme in the same room.  It will surely be a historic occasion.
Of course, this is not to say that the conferences in the past were not good. As the Toastmasters' educational system is making a significant shift, we are not only waiting for an example from others, but also taking a proactive stance in learning from each other and "Spark"ing growth together. We would guarantee that Spark! Café will "Spark!" the imaginations of each and every participant.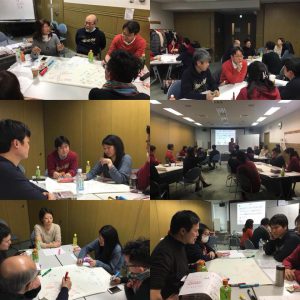 Voices from World Café Participants
Some Conference Committee members sneak previewed this World Café with the concept of "Spark!". Here's what they have to say.
"I listened to people more deeply than usual, and listened to their stories more seriously than usual. In the process, I was able to gain awareness that I have not had before.  I thought it was a rare experience that we don't usually have at Toastmasters' regular meetings." (Mr. A)
"I participated in the World Café with no prior knowledge about it.  It took me a while to catch the pace of conversation, but I was surprised when I found myself leaning forward and almost falling off the chair as I realized various thoughts were connecting in my head as the conversation continued.  The comfortable atmosphere that allowed everybody to voice their opinions was very attractive to me." (Mr. K)
"I felt the atmosphere started to change at the beginning of the second round of dialogue.  People around me started to engage and speak from their hearts.  I was focused and lost my sense of time during the conversation.  I realized for the first time that I really enjoyed talking with others and that having a dialogue is valuable.  I wanted to keep going." (Ms. O)
Spark! Cafe with Lunch

¥840
This event includes lunchtime.
Purchasing lunch online is required,
as Olympic Center prohibits to bring your own food and beverage to the venue.
Please contact us if you need to bring your special meal for religious and/or health reasons.