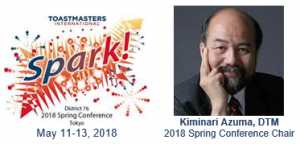 Dear fellow Toastmasters,
I am pleased to be able to send you the second Spark! letter today and introduce the important theme of our Spring Conference this coming May.
The theme for 2018 Spring Conference is: Spark!
We will have the chance to meet many Toastmasters in the Conference.  We will meet fellow members who may have aspirations or challenges similar to yours.  We may become friends with the speech contest finalists, the special guest from overseas and our fellow Toastmasters volunteering as Conference committee members.  We will make many acquaintances.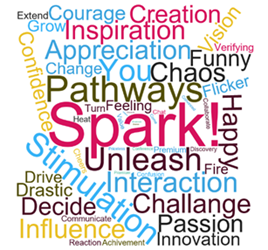 The power and energy of our fellow Toastmasters will keep us fascinated and stimulated throughout the Conference… and will seed something within us.
That is Spark!  When we feel it, that is the moment our views and values completely change.
Spark! is the start of a new life.  I am sure this experience is the reason why hundreds of our fellow members to come back to the Conference every year.
Spark! The moment the world changes in front of us.  We are thrilled to invite all Toastmasters to join the Conference and experience the same through the programs carefully developed by our friends in Division C as the Conference hosts.
You can feel Spark! during the 3 days between May 11 (Fri) – May 13 (Sun).
Please mark your calendar and get ready for the experience!
I look forward to sharing more details about the Conference schedule in the next Spark! letter.
Kiminari Azuma
2018 Conference Trailer movie:  https://youtu.be/rNj83qDwJf8