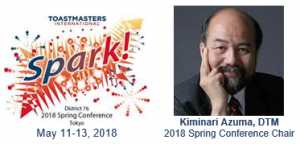 Dear fellow Toastmasters,
I hope you had a good start to the New Year.  I am Kiminari Azuma, the Chair for 2018 District 76 Spring Conference, which will be held in Tokyo on May 11-13.  It is now time for me to start sharing information about out next district conference.
The district conference is a very special event for us Toastmasters.  It is an opportunity to meet many Toastmasters from all over Japan and to inspire each other.  It is the largest educational program in the country, with keynote speeches by special guests, workshops and a speech contest to compete for the first place.  We also have the District Council Meeting (DCM) where club presidents and VPE's from all over Japan get together and make decisions on the future direction of Toastmasters in Japan.
I would strongly recommend that you mark your calendar now.  I would also appreciate it very much if you could share your positive past experiences with your peer members in the club meetings and at any other opportunities.
<2018 Spring Conference> Schedule and Venue:
May 11 (Fri) & 12 (Sat) – National Olympics Memorial Youth Center (Yoyogi)
May 13 (Sun) – Japan Education Center Hitotsubashi Hall (Jinbocho)
Conference Theme – Spark!
To see the trailer movie, click HERE (link to the movie shared in the 2017 Fall Conference)
I will share more details via email in the near future.  We plan to send one every other week.  There may also be some ad-hoc emails containing useful information, e.g. registration schedule.  In the next email, I will tell you more about the theme of 2018 Conference, Spark!
Please stay tuned, and I am looking forward to seeing all of you at the Conference in May.
Kiminari Azuma