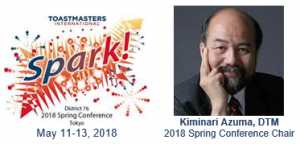 Dear Fellow Toastmasters,
I am pleased to announce that the online registration form will be available at the Conference Website from Thursday, March 1.  Please check it out and don't miss the Early Bird Specials (Spark! Discount.)
In this letter, I would like to introduce our special guest coming all the way from Canada, DTM Pat Johnson.
Pat served as International President of the Toastmasters organization in 2010-11 and later made significant contribution to the development of Pathways, Toastmasters' new educational program.  It will be a
Spark!
experience to have her in our Conference.
The first program of the Conference will be an interactive session with her on
Friday, May 11
, starting at 7pm.  We will discuss why "Pathways" had to be developed and why we need it.  We will envision the future of Communication and Leadership.
On
Saturday, May 12
, Pat will participate in the educational programs (AM:
Spark!
Cafe / PM: Toastmasters EXPO) and the evening party with us.
On
Sunday, May 13
, she will give a keynote speech during the break between Japanese and the International Speech Contests.  She will share her insights as a professional coach who guides leaders and speakers to present the greatest version of themselves.
If you are expecting to meet a World Champion of Public Speaking at the Conference, here is a good news.  Pat is one of the World Champions of leadership speeches.
To complete the long process of electing the International President of Toastmasters, you have to persuade the audience at the various Campaign Speech Meetings to finally win the position.  The format of those meetings may be Table-topics or the prepared speech.
Pat has won those elections so many times in the past several years.  Therefore, she is the World Campion of leadership speeches.
Please join us in welcoming and learning from DTM Pat Johnson and let's feel the
Spark!
at the Conference.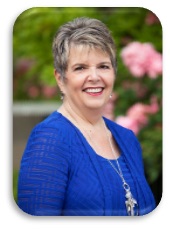 Kiminari Azuma