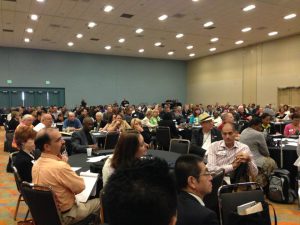 Dear fellow Toastmasters,
"Are we going to have some tea in Spark! Café?"
If this is what you thought when you saw Spark! Café in the conference schedule, no, you are wrong.  It is not a tea break or a snack time.
Spark! Café, scheduled in the morning of Saturday, May 12 right after the opening ceremony, is an exciting workshop using the methodology called "World Café" which effectively connects dialogues and brings about rich learning experience.
Here are some voices of people who have participated in the World Café session.
"I listened to people more deeply than usual, and listened to their stories more seriously than usual. In the process, I was able to gain awareness that I have not had before.  I thought it was a rare experience that we don't usually have at Toastmasters' regular meetings." (Toastmaster A)
"I participated in the World Café with no prior knowledge about it.  It took me a while to catch the pace of conversation, but I was surprised when I found myself leaning forward and almost falling off the chair as I realized various thoughts were connecting in my head as the conversation continued.  The comfortable atmosphere that allowed everybody to voice their opinions was very attractive to me." (Toastmaster K)
"I felt the atmosphere started to change at the beginning of the second round of dialogue.  People around me started to engage and speak from their hearts.  I was focused and lost my sense of time during the conversation.  I realized for the first time that I really enjoyed talking with others and that having a dialogue is valuable.  I wanted to keep going." (Toastmaster O)
Great news to those who have an experience feeling frustrated when the workshop ended before your discussion deepened.  We will have 4 hours for a series of dialogues at Spark! Café including lunch time.  I am sure that you will enjoy the enormous power of collective wisdom generated by our fellow Toastmasters from all over the country. Please join Spark! Café on Saturday May 12 and feel Spark!

Kiminari Azuma